1
Day 1: Arrival in KTM
We pick-up you up and bring you to the hotel in Bouddha area.
This is the base for the Boudhanath stupa.
This is the largest stupa in Asia, and a very important Buddhist pilgrimage place.The best time to visit the stupa is late afternoon, when the elderly Tibetan a Nepali Buddhist people stroll down to the stupa to light butter lamps, spin prayer wheels, chant mantras, socialize and stroll clockwise around the monument as part of their daily spiritual life.
Around the stupa are also many shops where you can find more Buddhist orientated gifts.
In the evening we will have a welcome dinner on a nice roof terrace from where we are going to have a stunning stupa view.
The briefing of our trip will also be been given after dinner.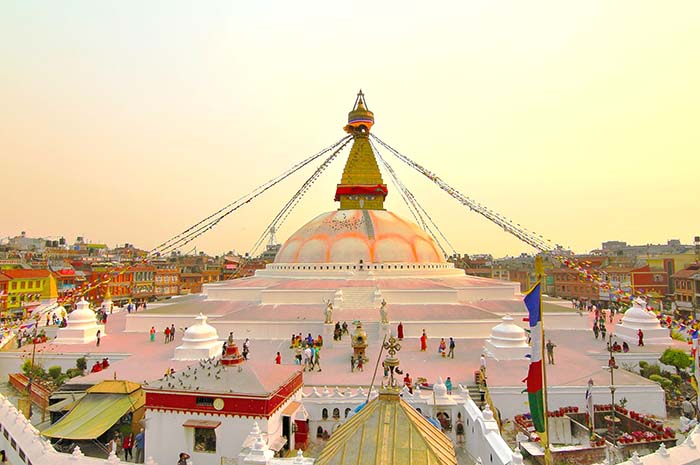 2
Day 2: Fly from KTM to Lukla and then trek to Phakding (2610 m)
After breakfast, we will begin our journey by taking the flight to Lukla airport.
The flight duration is about 45 minutes, where we already get a glimpse on the Himalayan mountains.

Arriving in Lukla we immediately start with our first trek.We will walk from Lukla to Phakding, what is a trek, gentle, of about three hours.
We are leave Lukla through the Pasang Lhamo memorial gate, named after the first Nepali woman to summit Everest.
Just below is a white chorten dedicated to the 18 victims of the 2008 Yeti Airlines air crash at Lukla.
On the way we will see our first Buddhist Stupa, many prayer flags and we cross our first iron bridge over the river.
The first village we pass is Cheplung.
Above the village, squeezed in to a cave at the bottom of soaring cliffs, is the tiny Cheplung (Taktag) Gompa, if we are luckily to find the men with the key we can bring a visit to this cave who was already filmed by National Geographic.
Here you will catch your first view of the river, Dudha Kosi, roaring along the bottom of the valley.
We will cross here for the first time the river, Thado Kosi Khola, on a swaying metal bridge.
The next village we cross is Ghat, here we pass a shrine and mani wall dedicated to Green Tara.Leaving Ghat , the main trail enters a curious complex of mani walls, chortens, rocks with black and white carved Tibetan mantras, and brightly painted prayer wheels. The focal point for this sacred Buddhist site is a small rock with in the shape of a lama's hat, worshipped as a symbol of Guru Rinpoche.
Finally, we reach our destination for today Phakding we will stay in local lodge.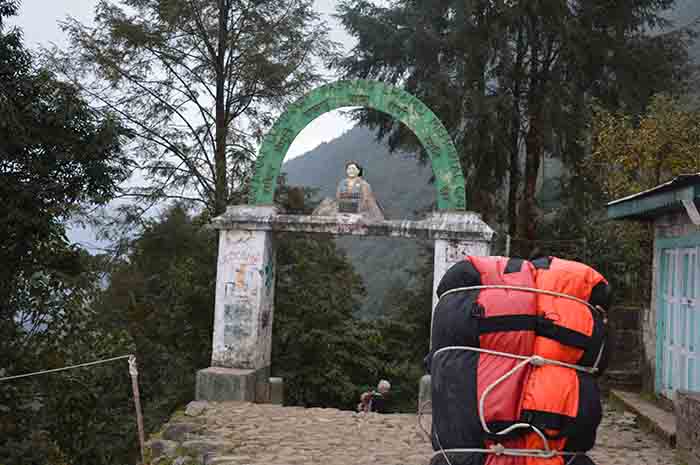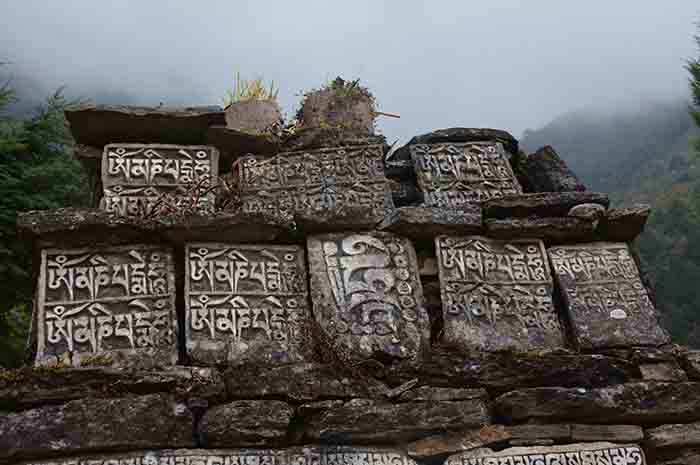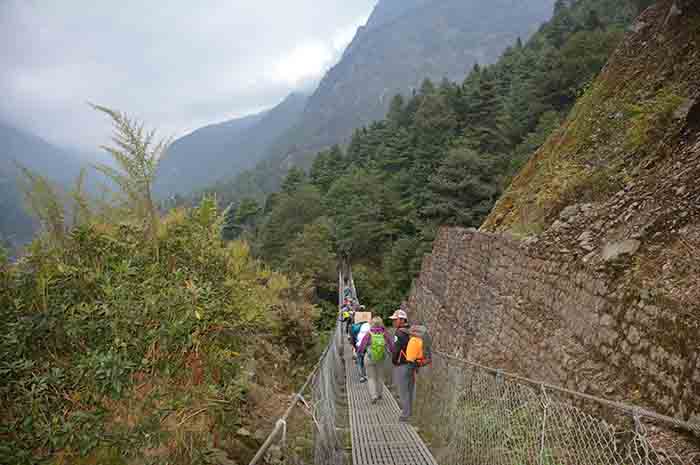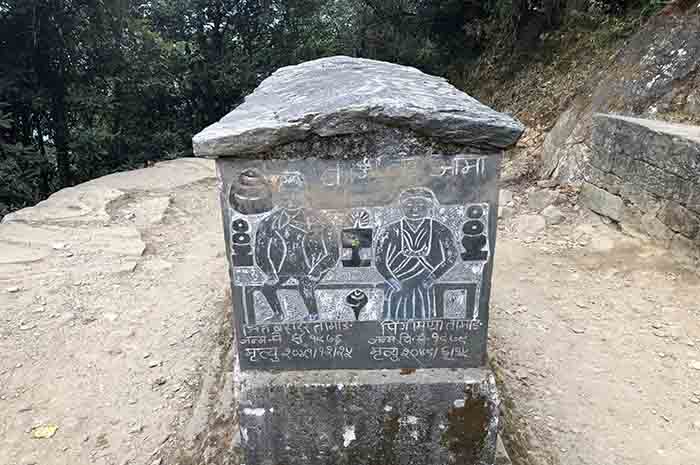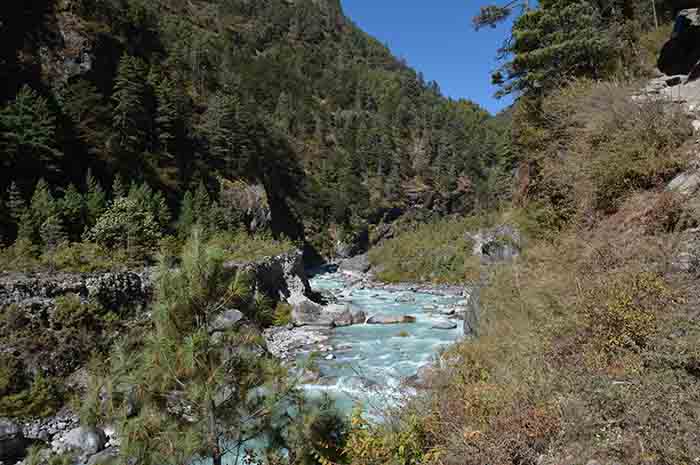 3
Day 3: Phakding (2610 m) to Namche Bazaar (3440 m)
From Phakding the trail follows the Dudh Kosi Valley north, meandering through the pines about 100m above the west bank of river.
After a short climb we have a view on Thamserku, the 6.608m peak that rises to the east of Namche Bazaar.
Along this stage of our trek we pass a small waterfall, villages with wonderful forests of rhododendron, magnolia and fir.
Then we will get to Monjo, 2.840 meter, what is half way our trek.
Just above Mojo we will have the entrance checkpoint for the Sagarmatha National Park.
After the check point the trail passes through a Kani (stupa-shaped gateway) signifying your entry to a hidden land, and drops down next to an enormous granite bluff, carved with mantras in huge Tibetan characters.
The next village is Jorsale where we have a view on the ruined former Tsamkhang
(meditation retreat) of the local lama, set in huge cave above the village. If we have time and it is open, we climb up for 10 minutes to the cave with the interior murals painted on planks of wood are exquisite.
We walk around the river bank at climb up to cross the Dudk Kosi river on a suspension high bridge.
On our path we come across many yaks and ponies.
After a steep climb of two hours we will reach our destination for the day, Namche Bazaar.
On our way up, halfway, we will have our first glimpse of the Mount Everest.
Namche Bazaar is a historic trading hub, famous for its homemade yak cheese and butter.
Namche is situated on the slope of an arch-shaped mountain, which allows you to oversee the sights of glorious mountain peaks throughout the valley, day and night. 
Once a capital of Khumbu, where Sherpas from neighboring villages and Tibet would gather to trade commodities, and would display their traditional arts and crafts, Namche Bazaar - to this date - hasn't forgotten its ancient culture and royal hospitality. 
The town, maintaining its reputation, is now a tourist hub since it is a gateway to the Himalayas.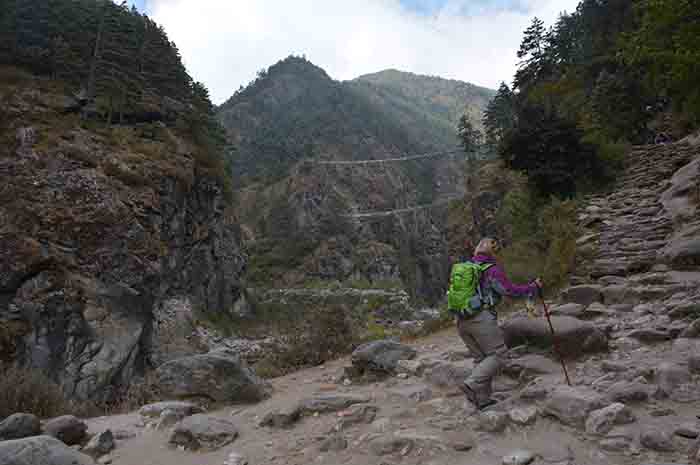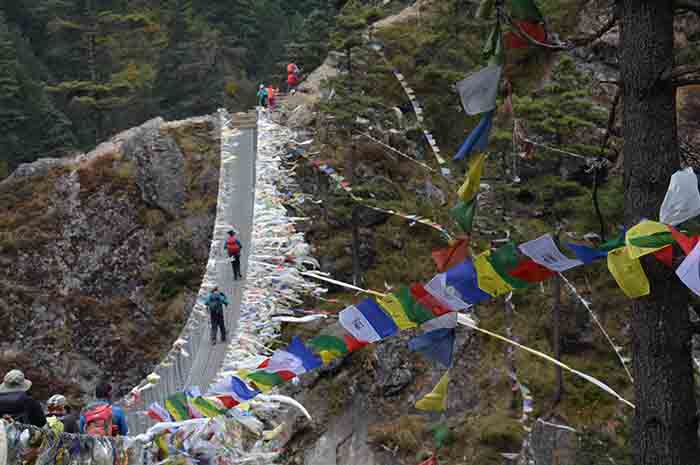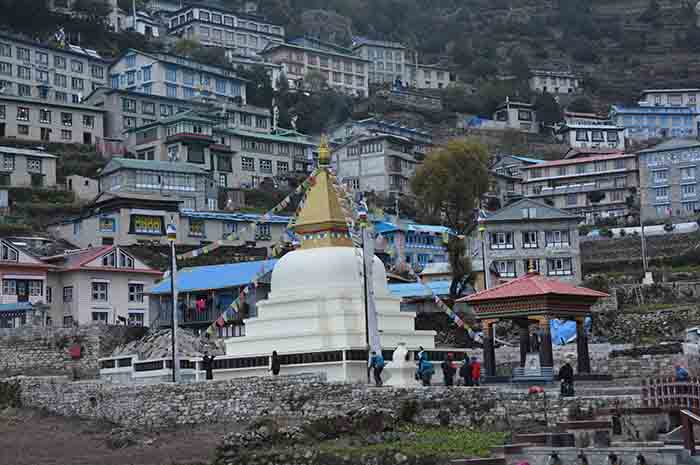 4
Day 4: Namche Bazar(3440m) to Tengboche(3867m)
On our trek we have a nice panorama view of peaks, from Thamserkhu to Ama Dablam, Lhotse and Everest.
Every spur you gain seems to bring the mountains closer.
The last town we pass is Phunki Thenga, 3.250 meter, there we cross the bridge over the river.
From here it is a climb of two hours to Tengboche.
We pass some water-powered prayer wheels and walk through a forest of tall rhododendrons.
Look out for the blood pheasant, red panda or musk deer, what you can spot here in the forest.
After two hours we reach Tengboche.
Tengboche Gompa is the famous, largest and most active monastery in the Khumbu area.
In Tengboche, a small town, we will stay for the next two days.
Our small hotel is located just before the monastery so that makes it very easy to participate to the festival.
In the free moments you can enjoy reading a book, or just relaxing on the roof terrace of the hotel, where you have an amazing view on the Everest.
Our host in the hotel is the grandson of the first Nepali climber of the Everest.
What makes our stay a little bit more special.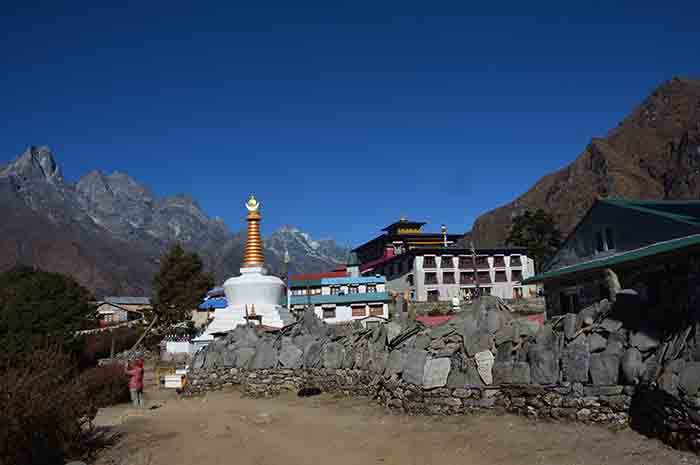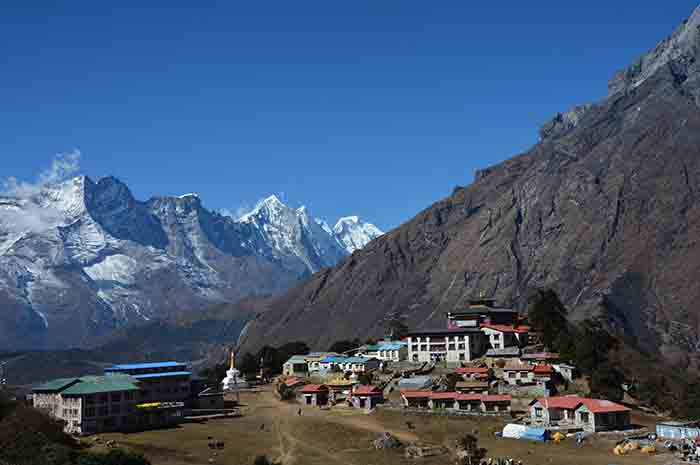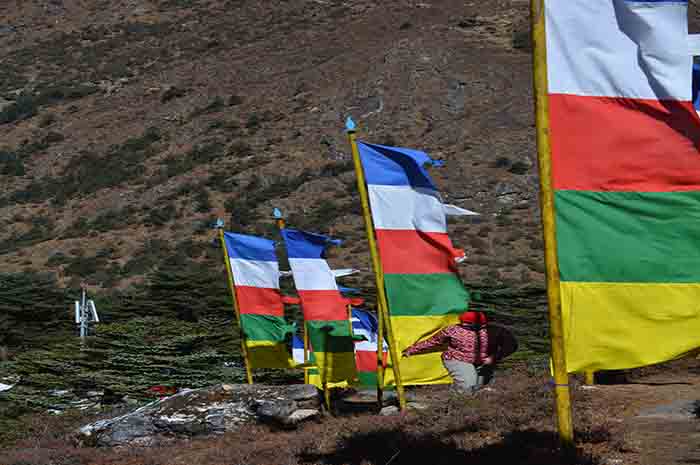 5
Day 5: Tengboche (3867M)
6
Day 6: Tengboche (3867m)to Dingboche (4360 m)
From Tengboche we walk through a forest of dwarf conifers and rhododendrons, here we have again the chance to see musk deer's and blood pheasants. After a while we cross our first town Debuche, 3.820 meter.
We can visit the Debuche Nunnery, where we can see some old impressive thangkas and murals painted on wooden panels inside.
The next town we pass is Milinggo, where we cross the white river of the Imja Khola.
On our way to Pangboche, 3.860 meter, we come across a white chorten with Buddha Eyes.
In Pangboche is the location of the oldest Gompa in the Khumbu area, Pal Rilbu Gompa.
In the village is also a small shrine for Guru Rinpoche.
Once we are crossing Pangboche, we are climbing above the tree line, entering an arid landscape of glacial boulders and alpine meadows.
When we reach our destination for the day, Dingboche, we will see the snowcapped summits of Island Peak, 6.189 meter, Peak 38, 7.591 meter and Lhotse, 8.501 meter.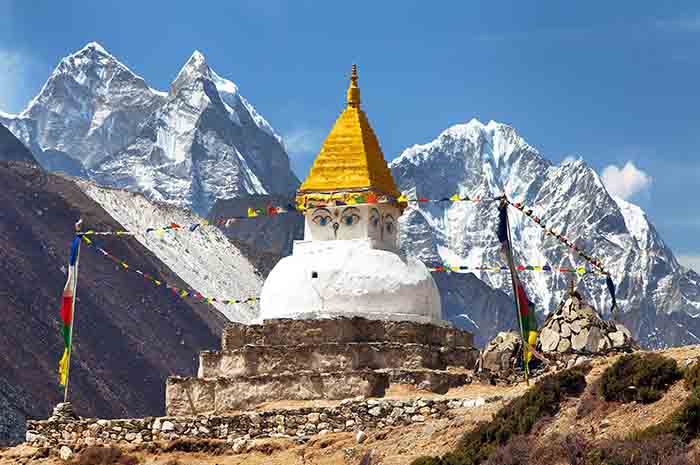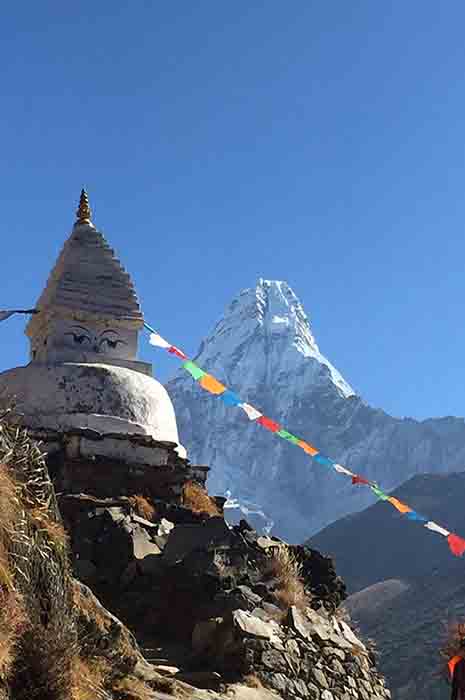 7
Day 7: Dingboche (4360 m) to Lobuche (4.930 m)
From Dingboche, we will cross Periche along the stupas at the top of the ridge.
We will have a nice view of the twin peaks of Taboche and Cholatse above a desolate landscape sculpted by vanished glaciers. Ama Dambla appears as a perfect pyramid.
We come along the town Dughla, from where we trek up the Khumbu Glacier.
On our way to Lobuche, we will have a nice view on the Pumori peak, 7.165 meter.We will also pass some memorials of lost climbers and Sherpas.
We will spend the night in a local lodge in Lobuche.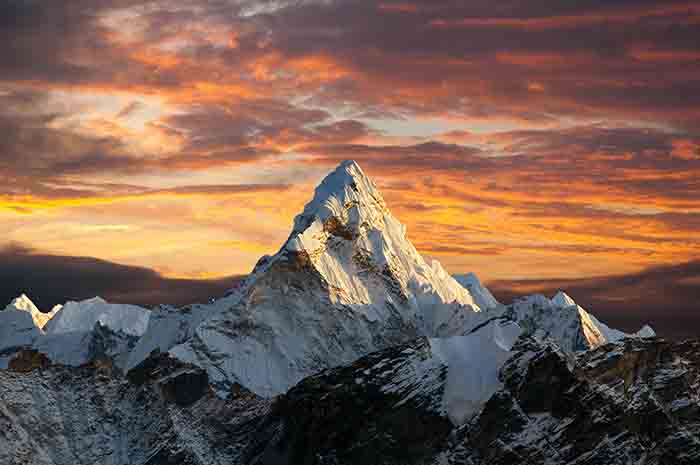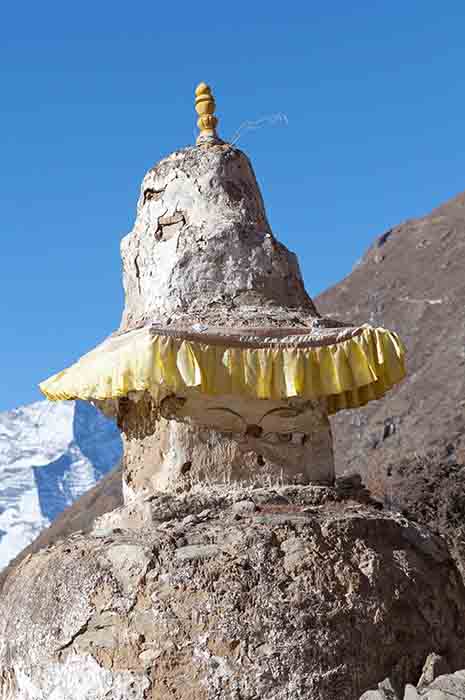 8
Day 8: Lobuche (4.930m) - EBC (5.340 m) - Gorak Shep (5.164 m)
The first section of the day we follow the narrow gap between the glacial moraine and the mountain wall.
The Khumbu glacier is an enormous tongue of ice marches down the slopes of Everest at a rate up to a meter a day, breaking off into towers of ice at the Khumbu Icefall. Crossing this Icefall is one of the most wonderful experiences on our trip.
Finally, we reach Gorak Shep, where we have a short break before we climb up to Everest Base Camp.
EBC, colored by the many prayer flags, is located at the bottom of the Khumbu Icefall.
After our visit to EBC we come back to Gorak Shep, to spend the night in a local lodge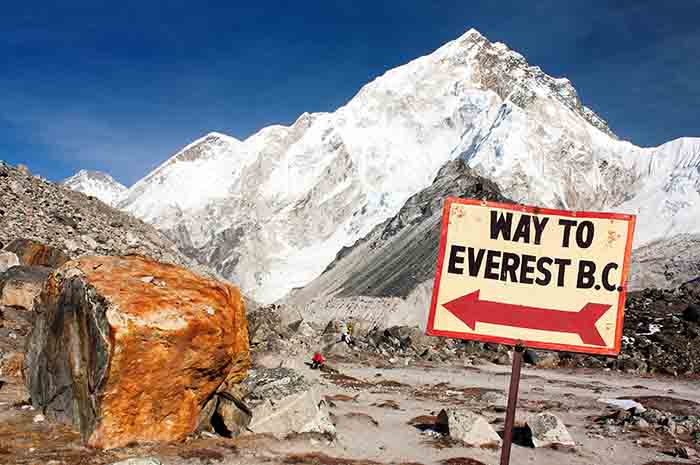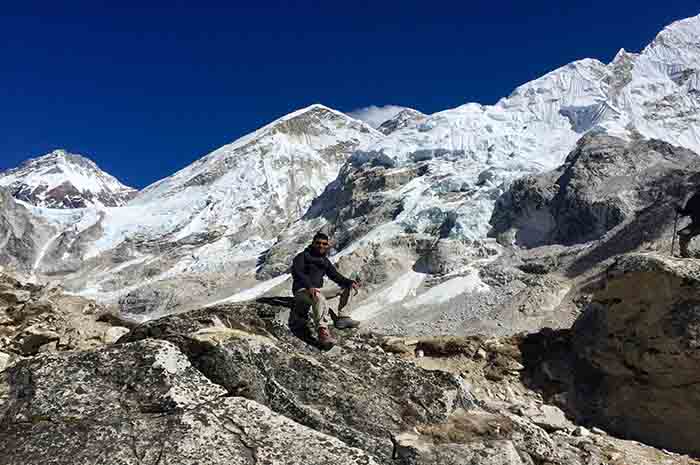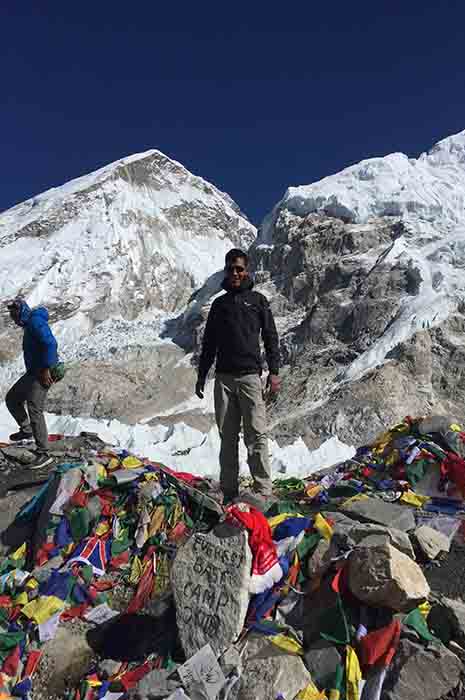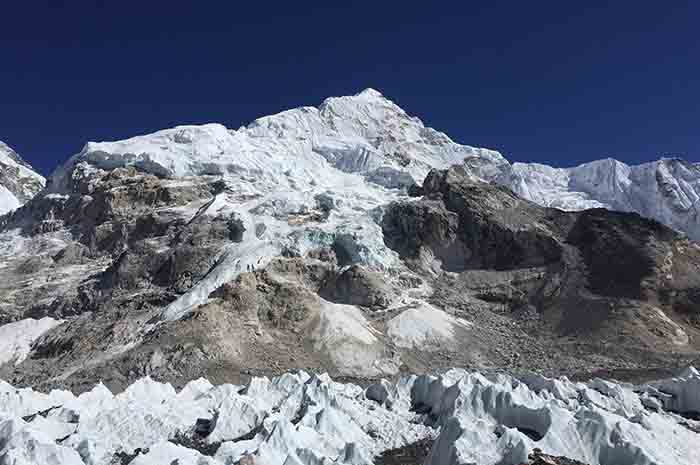 9
Day 9: Gorak Shep (5.164 m) - Kala Pattar (5.545 m) - Periche (4.240 m)
Early morning, we will climb up to Kala Pattar, the summit provides the best view of Mount Everest.
We will have here an astonishing view of the Himalayan giants, from Pumori and Lobuche West, 6.145 meter, to Nuptse, Lhotse and Everest.We will come back to Gorak Shep for breakfast, and then go on with our trek in the direction of Periche.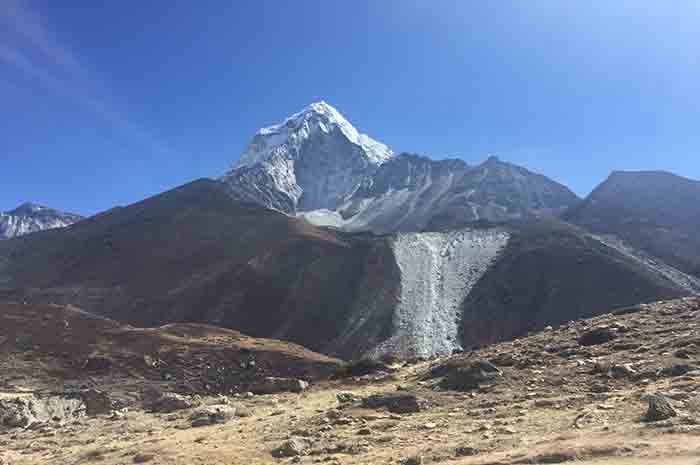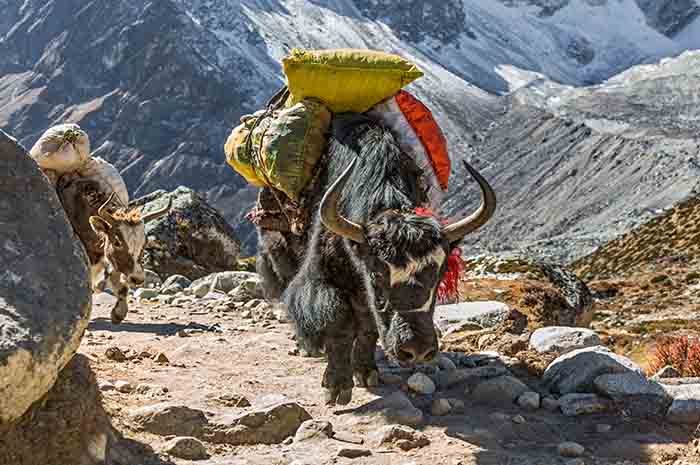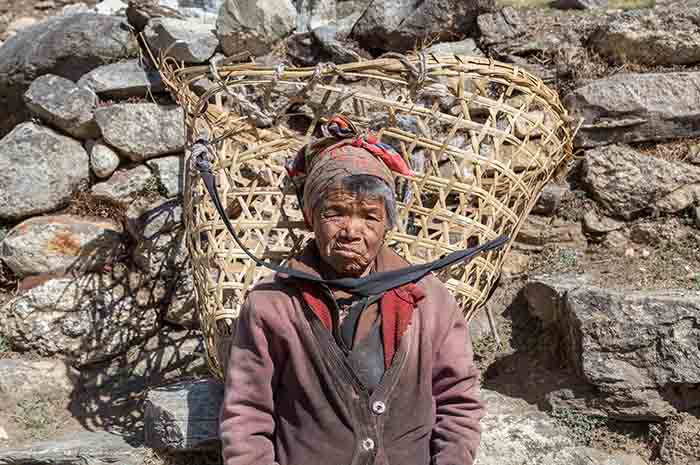 10
Day 10: Periche (4.240 m) - Phortse (3.810m)
Phortse is a small Sherpa village from where you have a nice view on the Imja Khola and the Dudh Kosi river.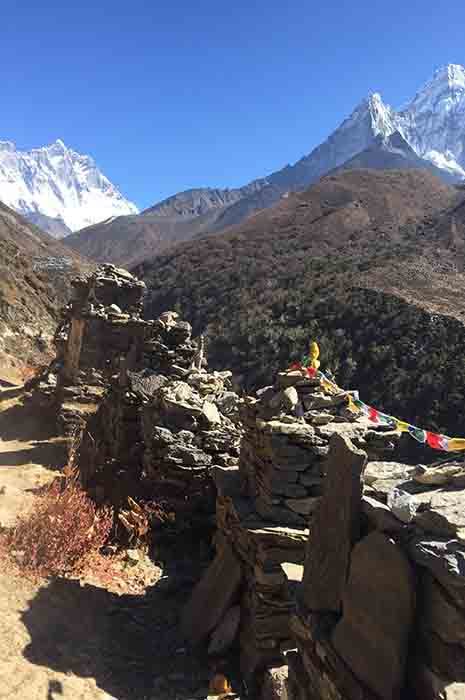 Morning are usually sparkling clear, and this is the best time to make the ascent. That is also as we have planned it in our shedule.
11
Day 11: Portse (3.810 m) - Khumjung (3.710 m)
The mani wall in Khumjung is said to be the longest in the Khumbu region.
Khumjung has also a small and atmospheric Monasterie.
ic Monasterie.
12
Day 12: Khumjung (3.710 m) -Phakding (2.610 m)
Many people find the descent from Namche to the Dudh Kosi the hardest stage of the trek.
Halfway down we will have our last view on the Everest.
Once we cross the high bridge, the path become easier.
13
Day 13: Phakding (2.610 m) - Lukla (2.860 m)
This is the last day of our trek, once we reach Lukla, it is time to enjoy in one of the several bars in Lukla.
14
Day 14: Lukla - Kathmandu
Early morning, we take the flight back to Kathmandu.
This time we stay in a hotel located in the busy part of the city, Thamel.
You have free time to do shopping, or stroll across the streets, drink something in the many bars, or just take a rest.
Evening time we have a farewell diner together.
15
Day 15: Fly home
Today is the end of your trip in Nepal.
After the drop-off at the airport, it is time to fly home with many nice memories of the beautiful Himalaya mountains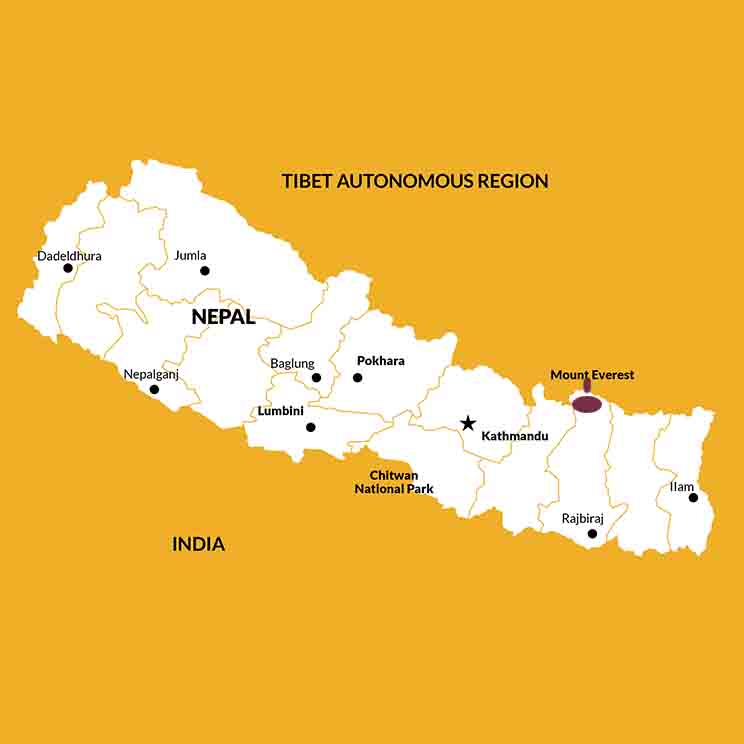 download here the detailed map of Great Himalaya Trail: Everest
Highlights:
o The definitive Himalayan trek, climing to the foot of the mount everest through breathless high alpine landscapes.
o On our way we spot many yaks.
o Experience daily life in the villages of the the sherpa's
PRICES:

Double: 1.700 dollar


Single  : 1.750 dollar

(Only KTM is single - we can't promise on trekking trip - depend on how busy it is in the mountains).

You can book this tour in our booking form - category "organized tours"
ADDITIONAL INFO
Included:
Airport pickups and drops

Welcome and farewell diner

2 nights in a 3-star hotel accommodation in Kathmandu with breakfast

13 days tea house accomodation on the EBC trek

Lunch/dinner we take on the way (water,tea or coffee is included) - note: our meals exist of a main dish (dessert and starters are not included)

Flight Kathmandu - Lukla and back

Trekking permit/tims (Trekkers' Information Management System)

Porter and guide included

All  entrance fees are included, as per itinerary

Porter and guide included

All  entrance fees are included, as per itinerary

All government and local taxes
Not included:
International air fare and transportation in and out of Nepal (Kathmandu).

Please buy your own travel & annulation insurance

Make sure your health insurance cover your assistance abroad

extra drinks (like alcohol,cold drinks, coffee and tea outside the meals)

extra food items
Hot shower, internet, charging batteries are extra's you need to pay yourself.

Personal expenses

Nepali visa fee

Tip for guide(s) and porter(s)
More Info
You can find more information on our Terms & Conditions in the sidebar or in our footer.
In the section Frequently Asked Questions you will also find there more information.