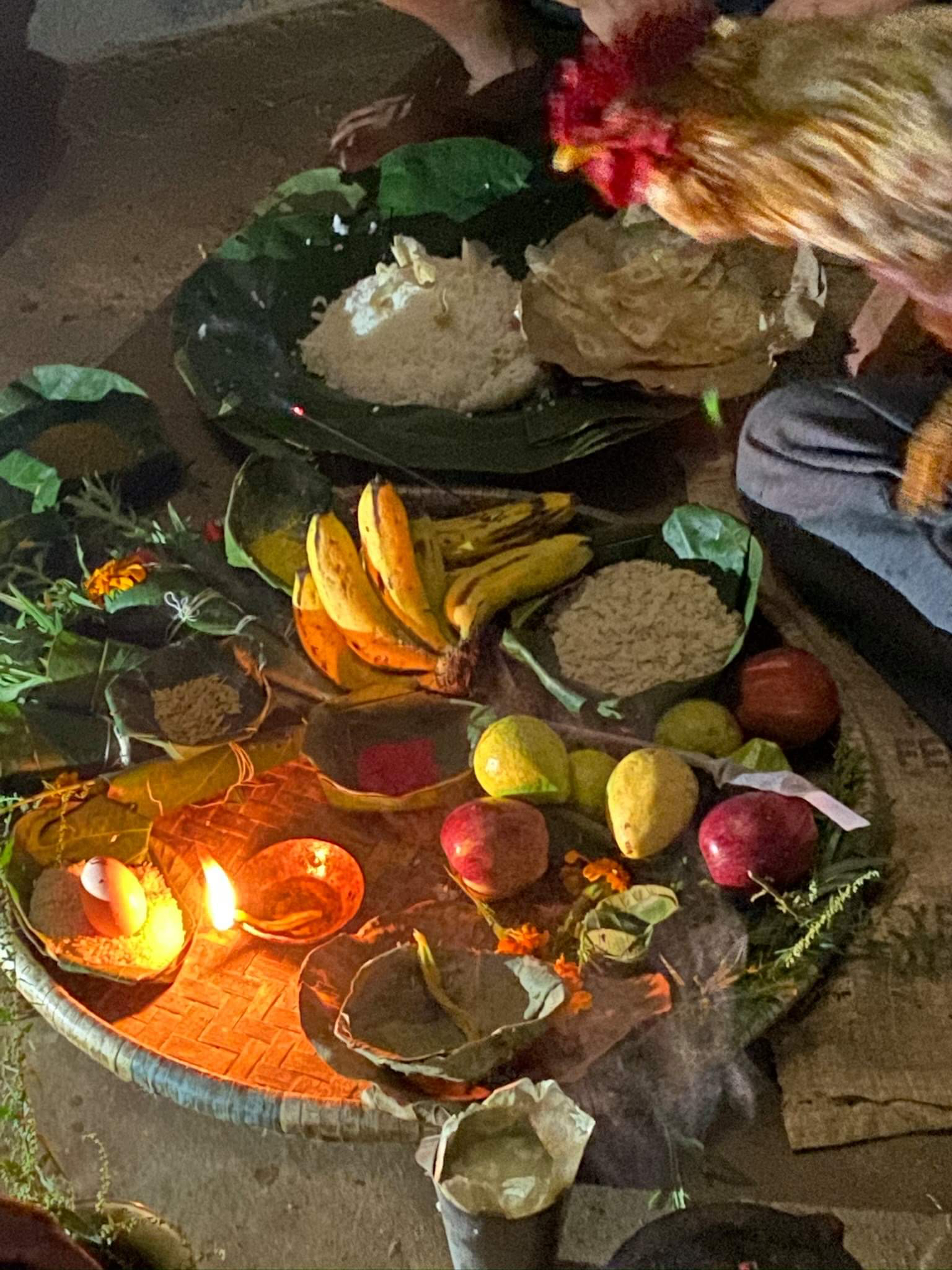 Festival time in Nepal: Dashain day I – Tamang style
Dashain is one of the biggest festivals happening in Nepal.
You can compare it with New Year party in Europe, only here they celebrate it for 5 days, actually it  counts 10 days but at least 5 days the family spend together.
As I am now also part of a Nepali family, we are travelling like most of the people to the parents who are living in the countryside.
It is like the capital city, Kathmandu, slowly become empty – it looks like a big
public removal – busses, taxis, jeeps full of people and luggage who travelling somewhere in the mountains.
The drive from Kathmandu to our countryside place is in kilometers not so far, about 60 km, but it takes more than three hours.
It leads us from the busy, dusty Kathmandu to the quiet, green countryside.
We pass beautiful green rice fields, rivers, … .
Because it is the second time, we come already I know what I can expect.
We make a stop on the way to buy beer, fruits and all what we need to bring.
On a second stop we pick-up our sister in law and their son – so our jeep is full Pramod, me, 4 brothers and sister in law and the child.
And then the drive start to takes us the mountain up … first time I did this drive I thought this will end in Heaven, because we went up and up seems there was no ending on the road up.
Because of the many traffic on the road but also, we were stuck because a buss broke down and all cars and busses needed to wait until it was fixed.
So we arrive in the dark, not so easy for me, because the path to the houses really up on small stones is in the grass and no light.
So we arrived late to start celebrating Dashain.
But first let me explain something about the history why some Buddhist people also celebrate a Hindu festival like Dashain.
About 200 years ago the ling Raja forced all people around the Kathmandu Valley to celebrate Dashain.
Who didn't do it they get punishment?
That is who the grandparents of Pramod started to celebrate this festival – but they celebrate it in a mixed way.
I also need to say that Bön culture, shamanism, is also very mixed with the Buddhist culture.
This is not only here but also in areas of Mustang and Tibet.
So you can say that the Tamang's celebrate Dashain in their own way .
First day for Tamang celebrations start with an offering ritual – which has his roots in the Bön religion.
See movie and pictures on our Facebook https://www.facebook.com/TaraHimalayanVision/
Father start with a ritual inside the house.
For the spirits of the many generations of family who already died.
This house is already generations in the family – so it is like honoring all generations before.
They offer flowers, rice, fruits … and use incense and then pray that all is a good with the family members of many generations before that their spirits are well.
And then they start to do the puja outside – on East side, astrological decided on a clean place.
This ritual they perform every year on the same place already for centuries.
The father of the family follows how to perform the ritual, learned by his father. The significance of each part of the ritual they don't know … but they know still each step they need to perform.
They make a square with five lines  horizontal and vertical
– then they put the special flowers on it so the whole square is covered.
Afterword's they put flowers around – put on egg _ …
With the essence they bless and call the names of all relatives who already died.
And then the rooster come – they wash the rooster so he is clean … then they put water on his head – if he shakes three times that means good luck …
After that I needed to run away – because they kill the rooster in a ritual way …
But I must say all the offers they do is also to eat of it with the whole family.
We sometimes in the West have an opinion of the offerings – but honestly, they kill the animal with much respect and then they whole family eat all of the animal later.
But if we compare that how we treat animals in the West and what we throw away from food … we can say a lot about that.
After that the family sit together eating and drinking.
And that is the end of the first day on countryside