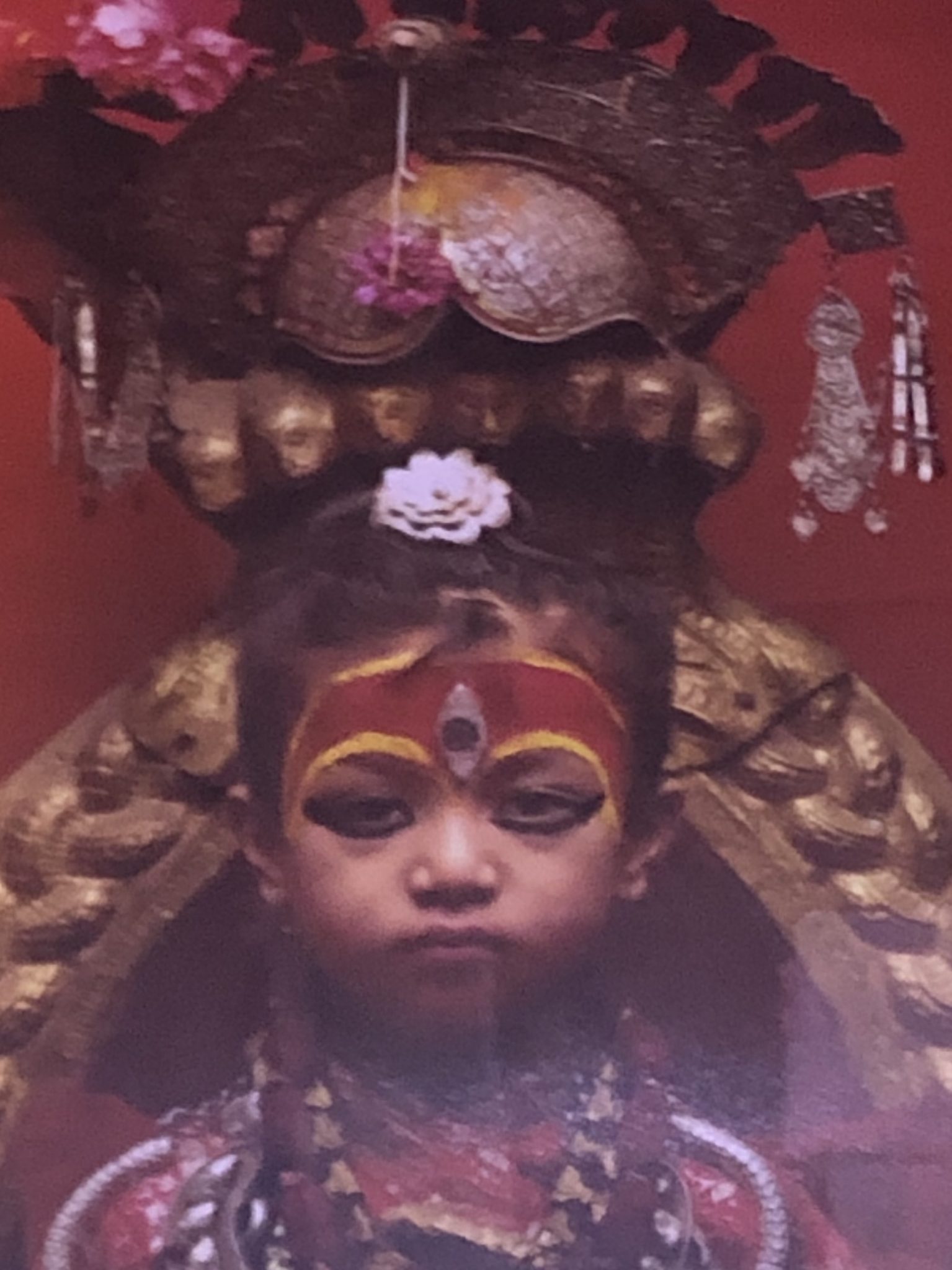 Do you know that Nepal has a living Goddess?
Did you know Nepal still have a living Goddess; she is called the Kumari.
The three king cities, Kathmandu, Patan and Bhaktapur all have their own Kumari.
The most famous is this of Kathmandu, you can only see her when she greets the people from out of her window at 4 PM.
But what not many people know is that you can bring a personal visit to the Kumari in Patan and receive a blessing (tikka) from her.
But who are these little girls?
And how they become a Kumari?
The Kumari is seen as the reincarnation of the God "Taleju".
For a new Kumari to be elected the old Kumari needs to "resign" – that means she lose the status of Kumari.
This happening the first time she loose blood – or by surgering, cutting or she gets her period.
Because the people believe when she loose blood – the goddess leaves the body of the Kumari.
To find a new Kumari you can compare with the finding of a reincarnation in other religions;
The selection process is conducted by five senior priests, and the royal astrologer.
Eligible girls are from the Newari Shakya tribe of silver and goldsmiths. She must be in excellent health, never have shed blood or been afflicted by any diseases, be without blemish and must not have yet lost any teeth. Girls who pass these basic eligibility requirements are examined for the battis lakshanas, or thirty-two perfections of a goddess.
As a final test, the living goddess must spend a night alone in a room among the heads of ritually slaughtered goats and buffaloes without showing fear.
Once the Kumari is chosen, she must be purified so that she can be an unblemished vessel for Taleju. She is taken by the priests to undergo a number of secret Tantric rituals to cleanse her body and spirit of her past experiences.
In the Nepali culture to see the Kumari is already experienced as a great blessing and bring you a lot of good luck.
But to get her personal blessing is said that it brings your awareness to a higher state of awareness – to uplift your female energy.
What happens with these young girls when they lose their title of Kumari and become an ordinary human being is rather a sad story.
The Nepali men believe if they marry a former Kumari, they will die young.
If you know it is very difficult for a woman to build up a life alone, then you can image what a disaster this is for these women.
All their live they were worshipped by all the people – carried around because their feet can't touch the ground … threated by a Goddess – and suddenly they are immortal …
But on the moment even less than a normal woman because no men want her.
But the contradiction is that I would find it very sad if I would have a daughter and she became Kumari. On the other hand, all Nepali people, as also my husband would find it a real honor …
So, you see how different minds can be.
We went to visit to Kumari of Patan with the yoga group and received her blessing.
Arriving on the courtyard of her house there is a small door to enter.
A notice board mention 'please press the bell to visit the Kumari – before you enter".
So we did … and went up the small stairs to a room on the first floor.
In a room next door a lady was feeding a baby and told us that we could enter the room next door and receive the blessing.
There she was sitting on a golden chair with her feed put on a silver scale.
She looked a little bit bored … and first sprinkled us with water to purify ourselves and then gives us a tikka made of rice to bless us.
Maybe it helps us to uplift our awareness.
And I ll hope this child is also blessed and will have a good life after she is not anymore Kumari.
When we came down a big group of Korean people where waiting to enter.
All are hopping to receive some blessing or maybe just are curious to see this living Goddess.
See the pictures on our facebook