1
Day 1: Kathmandu - Syabrubesi.
The Langtang trek combines spectacular views of the Himalayas with great cultural insights. In this trekking, you can enjoy the outstanding views of Mount Langtang Lirung (7246 meters), Dorje Lakpa (6966 meters), Gang Cheenpo (6388 meters), and Ganesh Himal (7429 meters). It grants you an opportunity to explore beautiful mountain villages habituated by Tamang People. Tamang is one of the major ethnic communities in Nepal. The lifestyle of Tamangs who live in the Langtang area is highly influenced by Tibetan Buddhist culture. Further in this cultural trek, you will also get to see ancient Buddhist monasteries.
About the origin of the name 'Langtang' of that place, locals tell an interesting legend. According to the legend, in ancient times, one of the Buddhist monks called Lama lost his yak. When in search of yak he discovered this beautiful valley. In the Tibetan language, the word 'Lang' means 'yak' and 'tang' means 'to follow'. As this valley found when the following yak, later this place called Langtang. In the upper part of this valley, we find lots of yaks. They are grazing in an open meadow.


In the morning we leave Kathmandu in the morning for Syabrubesi, a village which is also the starting point for treks into the Langtang valley. Our journey will be on a winding road through frequent switchbacks. On a clear day we get to enjoy outstanding views of Manaslu, Annapurna and Ganesh Himal. Our trek for today ends with a descent into the small village of Syabrubesi. Overnight in Syabrubesi.
2
Day 2: Syabru Besi to Lama Hotel - Alt. 2,410m. Trek 6 hours.
After breakfast, you start trekking crossing the bridge, and climbing to the village of Old Syabrubeshi. Visit a monastery is in a small stone building at the end of the village. Afterward, you follow the stone paved trail to cross over Langtang Khola by the bridge. Continue walking along the stream to a junction. The right trail goes to Thulo Syabru, but you follow the straight one. You have a couple of climbs and descent through the forest. In the forest, you may see varieties of birds and wildlife including wild boars, langur monkeys, red pandas, and black bears. The trek becomes pleasant crossing side stream up to Dovan. The trail then makes a steep climb over a rocky ridge and arrives at Bamboo. Leaving Bamboo, the trail crosses the Dangdung Khola and then climbs to a suspension bridge over Langtang Khola. On the north bank of the Langtang Khola, the route climbs alongside a series of the waterfall. The climbing continues until you reach Changtang popularly known as Lama Hotel
3
Day 3: Lama Hotel to Langtang Village - Alt. 3,430m. Trek 6 hours.
Today you start your journey with a gentle climb, but it soon becomes steeper climbing through a wild forest of hemlocks, oaks, maples, and white rhododendrons. Through the forest, you can see the first view of Langtang Lirung peak. You stop for a while at Gumanchok. This is one of the loveliest spots of the trek. You follow the path that crosses a stream then climbs steeply and arrive at Ghora Tabela. Here you find Nepal Army, National Park Check post. You follow the path across the helipad and yak pastures and climb briefly through rhododendrons trees. The trail now opens into a glacial Langtang valley. You climb the hillside above fields of buckwheat, potatoes, and barley and sooner you reach your lodge nearby Langtang village. From the lodge, you can have spectacular views of Langtang Lirung (6581m). Upon arrival at Langtang village, it is worth visiting Langtang Gompa, the old monastery with Buddha statues whose walls are elaborately carved. This village is also the headquarters of Langtang National Park. You can visit the park building just a few minutes walking below the village. Another attraction of Langtang valley is to explore local houses which have Tibetan-style flat roofs and carved wooden windows.
4
Day 4: Langtang Valley to Kyanjin Gompa – Alt. 3,830m. Trek 3 hours.
After breakfast, you follow the path through the village and climb a ridge by a large Chorten. You walk along the impressive mani wall and cross a stream to Mundu village. Later the trail rejoins the rushing river and climbs to the yak pastures of Yamphu. You then cross another stream on a cement bridge and then climb a moraine to a viewpoint from where you see the Kyanjin Gompa monastery and icefall flowing from Langtang Lirung and its surrounding peaks. After you climb the final ridge, the trail descends to the large cluster of lodges below Kyanjin Gompa. After checking in the lodge first, you will take lunch. Then you go to explore this beautiful area that includes Nyingmapa Monastery School, Cheese Factory started with Swiss Assistance in 1955, and pastureland.
5
Day 5: hiking around Kyanjin Ri
Early morning our guide takes you hiking to Kyanjin Ri nearby Kyanjin Gompa. For this excursion, you follow the path east towards Langshisha Karaka. The path passes stone Goths at Yala Kharka before climbing. After 3 hours of climbing up, you will reach the top marked by the prayer flags. From here you can enjoy spectacular panoramic views of the whole Langtang Himalayan range includes Langtang Lirung (7,244m), Langshisa Ri (6,810 m.), Gyanghempo (6,888 m.), Ganjala peak and
more. Then you trek down Kyanjin Gompa.
6
Day 6: From Kyangijn to Lama Hotel - Alt. 2,410m. Trek 7 hours.
After breakfast leaving Kyanjin Gompa you retrace your footsteps to Langtang village then to Lama Hotel passing through the forest and crossing the streams. Today the trail goes all the way down Lama Hotel.
7
Day 7: Lama Hotel to Syabru Besi - trek 7 hours
After breakfast leaving Kyanjin Gompa you retrace your footsteps to Langtang village then to Lama Hotel passing through the forest and crossing the streams. Today the trail goes all the way down Lama Hotel.
8
Day 8: Syabru Besi to Kathmandu - drive 6 hours
After breakfast, you catch a bus drive to Kathmandu. You will reach Kathmandu in the afternoon.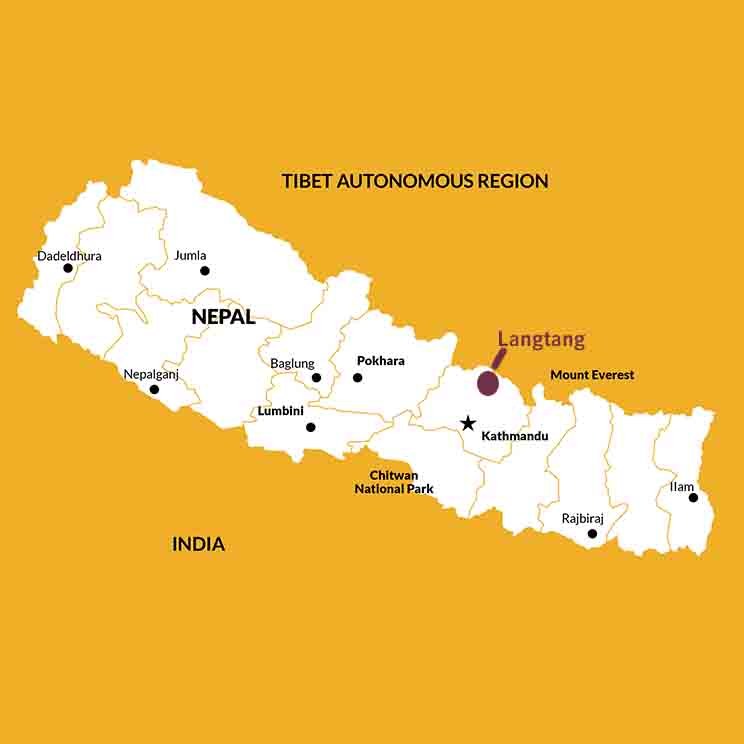 download here the detailed map of Great Himalaya Trail: Langtang
Highlights :
o Buddhist chorten
o national flower rhododendron
o Nice views on the valley
o beautifull river
o beautifull water falls
o valley
o monasteries
o glacier
o big high snow cap moutain . mountain range Langtang
o local village
ADDITIONAL INFO:
on demand.
Ask for an offer.
Included:
All trekking based on itinerary.
Not included:
International air fare and transportation in and out of Nepal (Kathmandu).

Please buy your own travel & annulation insurance

Make sure your health insurance cover your assistance abroad

extra drinks (like alcohol,cold drinks, coffee and tea outside the meals)

Personal expenses

Nepali visa fee

Tip for guide(s) and porter(s)
More Info
You can find more information on our Terms & Conditions in the sidebar or in our footer.
In the section Frequently Asked Questions you will also find there more information on Nepal and how to prepare for a trek.