1
Day 1: Arrival in Kathmandu
You will have some time to acclimatise and explore the wonderful hotel, which will take you back to the old cities of Nepal. It is decorated with old wood carvings and terracotta, handmade with local clay from the valley. The owners also incorporated elements of Nepal's diverse cultural heritage, including some from beyond the valley. The furniture is crafted by traditional carpenters, and the linen, textiles and embroideries with the typical Nepali patterns are handwoven. Dwarika Das Shrestha, the hotel's owner, took some of the finest elements of Nepali crafts and presents them in a new, original way. He explains his vision as follows: "My project is to recreate a 15th-17th century environment where tourists and Nepali alike would have a sensation of the original."
In the evening, when the candles are lit, you will feel as if you are in a 1001 nights fairy tale. You will have dinner at the restaurant where they serve 21 dishes from different Nepalese tribes.
2
Day 2: Explore the culture of the old cities in Nepal
Nepal has 3 old cities, also called the king-cities: Kathmandu, Patan and Bhaktapur.
Of the three former city-states - all of them UNESCO sites - medieval Bhaktapur is the most atmospheric one. Its backstreets are filled with temples and pagodas and winding lanes lead to squares where locals are drying corn and making pottery.
After your visit, there will be some time to relax at the swimming pool.
3
Day 3: Mount Everest
A helicopter will take you to the Mount Everest, the highest snow mountain in the world. A 50-minutes flight will bring you as close as you can get. You will see the Everest Himalaya range, glaciers, lakes, …

You will land on the Everest base camp where you will be able to stroll around for a while.
By lunch time we will be back in Kathmandu, where we will get ready to go to the airport. In the late afternoon, we will take a flight to Pokhara.
4
Day 4: Adventure - Canyoning
In Pokhara, an experienced team of canyoning specialists will take you on a once in a lifetime adventure, descending huge waterfalls and pushing your own boundaries. It will be a personal challenge, but an experienced team will be there to support you.
Be prepared for a unique thrill:
Take a journey through rocky canyon passes and impressive waterfalls as our experienced guides take you abseiling, sliding, jumping and swimming down steep canyon walls. Enjoy the breath-taking scenery of the untouched jungle with multiple waterfalls cascading into refreshing pools. We invite you to step outside of your comfort zone and experience one of Nepal's best kept secrets.
5
Day 5: Adventure -Rafting
Another team of experts will take you on a unique team adventure, as you will go rafting on one of Nepal's white rivers. In order to reach your goals, you will have to work together and listen to the instructions very carefully.
Just a glimpse of this unique experience:
Only 30 minutes from Pokhara's Lakeside, this short and sweet rafting adventure offers 1 ½ hours of non-stop adrenaline filled class III+/IV rapids. With fantastic Annapurna mountain views, crystal clear Himalayan white water and a beautiful gorge, decorated with a suspension bridge and prayer flags, rafting the Upper Seti River is the ultimate half-day trip in Nepal.
Mother Nature packs more rapids into 90 minutes on the Upper Seti than some other rivers provide in 2 to 3 days, making this a crew favourite right here in our own backyard.
By lunchtime we will be back in Pokhara.
In the afternoon, we will make a mountain bike ride through the local villages of Pokhara valley.
6
Day 6: Bungy Jump
You will take an early flight to Kathmandu and private cars will bring you to the resort in Dhudikhel, while you enjoy the spectacular scenery of the green valleys. A 3-hour drive will bring you to the resort with mountain view, close to the Tibetan border. There, you will make a 160-metre bungee jump, the highest one in the world.
7
Day 7: Stunning Himalaya View
Enjoy the sunrise and a stunning view of the Himalayas before you have breakfast and head back to Kathmandu.
We will make a final stop to visit a unique monastery and learn something about the Buddhist culture. Afterwards we will teach you the basics of sword practice in this wonderful environment. Sword practice will help you to calm your mind and find inner peace and strength. The initiation will take about three hours and will teach you enough about this method to try it yourself once you get home.

In the evening, we will arrive at the airport where you will take your flight home.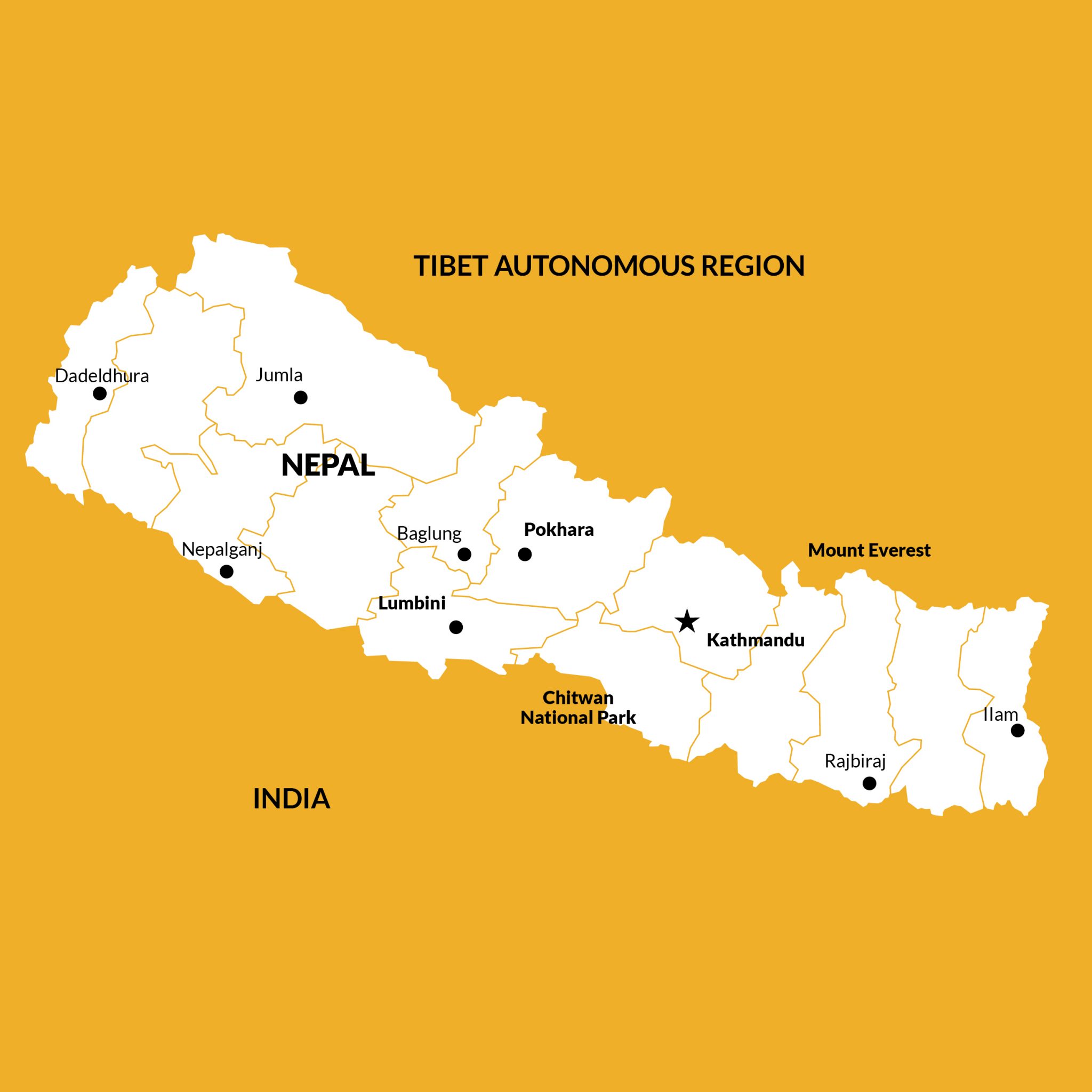 Highlights :
Unwind and connect with the space in the mind everybody is looking for
• Take a helicopter flight and see the highest mountain in the world
• Walk around Everest Base Camp
• Do the highest bungee jump in the world
• climb down as a team from huge waterfalls
• Learn to calm down your busy mind with an authentic technique at sacred places
ADDITIONAL INFO:
on demand
Included:
Not included:
More Info
You can find more information on our Terms & Conditions in the sidebar or in our footer.
In the section Frequently Asked Questions you will also find more information.