1
Day 1: Arrival in KTM
Arrive in Kathmandu. Alt: 1,350m.


At Kathmandu International Airport, you will be met by Pramod and be transferred to your hotel. There will be a full tour briefing in the evening.
We have a welcome dinner together.
2
Day 2 Pokhara:
Drive Pokhara, Overnight Hotel. Alt. 820m. Drive 7 hours.
 We drive out of the Kathmandu valley following the Prithvi highway, and descend to the scenic and tranquil town of Pokhara. En route we will have outstanding views of the Ganesh, Manaslu and Annapurna ranges of the Himalayas, along with river valleys, terraced fields and local villages. Pokhara is set on the banks of Phewa Tal (lake) beneath the Annapurna range that create a spectacular backdrop for this serene town. On arriving you are free to explore the town, take a boat out on to the lake, walk up to the peace pagoda or simply relax and soak up the atmosphere by the lake.
3
Day 3 Muktinatah
Fly to Jomsom and trek to Muktinath
Overnight Hotel.. 2,715m Trek 5 hours.

Taking a morning flight from Pokhara we will reach Jomsom after 25min.
From there we start our trek.
Walking along the Kali Gandaki River we will reach Aklovatti.
During the walk we will have scenic picturesque places to stop by and admire. From Kagbeni the path climbs steeply to re-join the direct trail leading to Khingar at 3200m. The trail climbs through a desert landscape untill Jarkot Village. A further climb reaches us to Muktinath.
Muktinath is an important place of pilgrimage for Nepalese of both Buddhist and Hindu faiths as these two religions are intricately woven together in Nepal. We visit the main temple in the morning and tour its surrounding. We can admire the water spouts before paying a visit to a Buddhist monastery nearby. 
4
Day 4 Chele
Trek to Chele
From Muktinath we take the route, which leads us mostly uphilltowards Gya La Pass (4077m). From the pass we can catch stunning views of some of the highest peaks of the Himalayas, including Niligiri and Dhaulagiri as well as the beautiful Muktinath Valley and the Thorung La Pass on 5416m, which is part of the Annapurna Circuit Trek. The Gyu La Pass itself is marked by a large number of prayer flags and a couple of stone shrines. From here we continue walking downhill until reaching Chhusang for lunch. The population consists mostly of a local ethnic group of Tibetan descent.
Their language is quite similar to other Tibeto-Burman languages like Tamang. 


After lunch we continue walking along the Kali Gandaki River towards Chele – today's destination. It is a small village with a couple of homestays. Local specialties like Tibetan bread and the salty Tibetan tea can be tasted.
5
Day 5 Chilling
Trek to Ghiling

Alt. 3,570m - Trek 6 hours. 

At first the trail leads us uphill. After 2 to 3 hours of walking through rough sand and stone formations with very less vegetation we reach Samar, a small village with 10 to 12 houses, where we take our lunch break.
The local population originally immigrated from Tibet but by now they have mixed with different Nepali ethnic groups.

From Samar two trails lead to Ghiling, today's destination.
The shorter one includes a couple of extreme uphill and downhill sections, the longer one requires more time but ascents much more moderately. This way should be chosen by those interested to see a cave system not too far from Samar. Guru Rinpoche used to meditate in one of the caves and Buddhists – locals as well as pilgrims – still come to worship the huge statue in the shape of the Guru Rinpoche that can be found inside the caves. At least one monk is always there to keep watch. One is welcome to make a small donation of 100Rs, which is used for maintaining and in return get to light a candle, which is supposed to and enjoy some Tibetan tea. As the trail continues we reach Syangboche, a small village with a couple of homestays and lodges that invites to take another break and maybe visit the two local monasteries.
One the other hand the short way offers a beautiful scenery with stunning views of some of the highest peaks of the mustang range, including Niligiri and Dolpo. Ghiling is reached in the afternoon.
It is quite a big village with two monasteries and a couple of stupas that can be visited. The night is spent in a homestay-like lodge.
6
Day 6 Tsarang
Trek to Tsarang

Alt. 3560/Trek 6 hours.
Leaving Ghiling in the early morning our trail constantly ascents for about two hours. It is followed by a downhill sections which leads us to Ghami, a small village having only one lunch where lunch is taken.
Continuing after having gained new energy we walk along a long wall-like assembly of stupas which, according to some legend told by the locals was built by the Guru Rinpoche a very long time ago.
This region used to be distressed by daemons, causing misery and destruction. The story further tells that to end this suffering Guru Rinpoche slew those bad spirits and built the stupausing their intestines. At times our trail crosses the jeep road which is not too busy though as a jeep goes only twice a day from Jomsom to Lo Manthang.
As there are no villages on the way we have to carry packed lunch and stop at a spot of our choice. Excellent views of the surrounding mountains are guaranteed. They seem to be within one's grasp.
Small animals like rabbits and mice are likely to cross our trail. After 5 to 6 hours we reach Tsarang, a big village with 5 to 6 lodges and a couple of stupas and monasteries for monks as well as nuns. The biggest one accommodates 50 to 60 monks who spend their days praying and studying Tibetan Buddhism.
7
Day 7 Lo Manthang
Trek to Lo Manthang

Alt. 3,809m/Trek 4 hours.

Today's trek is quite moderate having only a couple of slight uphill sections. The trail leads us through some unique landscapes with fascinating rock formations and reliefs which seem to change their colour according to daylight and weather conditions.
There are no villages on the way, only a 200 to 400 year old.
After approximately 4 hours we reach Lo Manthang, the capital of the Kingdom of Upper Mustang.
After taking lunch and a short rest one can walk around and visit the three monasteries inside the palace premises. Being the biggest settlement of Upper Mustang Lo Manthang has a couple of grocery and tea shops and 5 to 6 proper guest houses.
8
Day 8 exploration day in Lo Manthang
Exploration day in Lo Manthang
Alt. 3,809m
We start the day visiting a monastery about 2.5 hours from Lo Manthang by walking.
The monastery is connected to a cave system and another couple of monasteries which were built during Nepal-Tibet War. The invading Tibetans had closed the water, so people hiding in the caves would die from thirst. However the locals used a trick to free themselves from this hopeless situation by applying oil on hair and skin. From the it looked like water. The Tibetan troops got confused – how did they still get water even though all the water lines were blocked. So they stopped the blocking, as it was apparently not effective at all and the locals survived.
Apart from the fascinating cave system one has a superb view of the surroundings.
After getting back to Lo Manthang in the afternoon one can visit the 400-years-old royal palace and even meet the current king of Mustang, but on appointment basis though. He will answer all kinds of questions related to Mustang's rich culture and history.
9
Day 9 Gahmi
Trek to Ghami

Alt. 3820m/Trek 6 hours.

We return on a different route that we came by, which is a constant mix of slight uphill and downhill sequences through the stunning scenery of Mustang. After a couple of hours we reach Loghykar Gumba, a Tibetan monastery that was founded by the Guru Rinpoche around 600 years ago before he crossed the border to Tibet. It is therefore older than the still existing monasteries in Tibet.
Its luscious red color is said to be the blood of the demons defeated by Guru Rinpoche. A similar story is told about the red hills around the little settlement Dakmar. They have their unique color apparently due to blood shed during fights between locals and invading Tibetans. One should take notice of the magnificent view before reaching Dakmar.
From Dhakmarit takes around 30mins to reach Ghami
10
Day 10 Samar:
Trek to Samar

Alt. 3,660m/Trek 6 hours. 
We cross Ghiling where we take out lunch break to reach Samar another 2 to 3 hours later. Samar is a small settlement of 10 to 12 houses with a couple of lodges.
11
Day 11 Kagbeni
Trek to Kagbeni

Alt. 2.810 m/Trek 6 hours. 
Walking along the Kali Gandaki River we will reach Kagbeni after approximately six hours. There are a couple of lodges and shops and apart from that some small monasteries that are worth a visit.
This is also on old Bön religion town, with old statues.
12
Day 12 Tatopani
Trek to Jomsom and then drive to Tatopani (5 hours)
From Kagbene we have to walk 2 hours to reach Jomsom, our starting point.
There we take a jeep to Tatopani, wich will be a drive of 5 hours.
Arrived in Tatopani we can enjoy taking a bath in the hot springs.
13
Day 13 Ghorepani
Trek to Ghorepani
Alt. 2,860m – 6 hours
In the start of our trek today we will be facing an uphill walk, all the way to Ghorepani.
During our walk we will see local villages, terrace fields, rice fields and the local live style. Our walk will bring us also a part through the forest.
When we arrive in Ghorepani we will have a glimpse of Annapurna South (7,219m) and Machhapuchhre (Fishtail) (6,997m). Ghorepani,  is the home of the Magars. Originally it was a horse watering post
14
Day 14 Ghandruk
Trek to Ghandruk
Alt. 2,012m 6 hours
To capture the highlight of this trek we leave early in the morning for Poon Hill (3,210m). A 45 minutes walk above Ghorepani brings us to the panorama of peaks of Dhaulagiri (8,167m), Annapurnas, Machhapuchhre (6,997m), Manaslu (8,163m) and many more.
As the sun rises over Dhaulagiri (8,167m) and Annapurna Himals they glisten with the first rays of the sun while the skies glow through an array of reds to pinks.
This is one of the world's most incredible mountain vistas. After breakfast we join the trail that heads north following a ridge with stunning views of the Annapurnas from east to west.
Passing through open space the trail brings us very close to Annapurna South (7,219m).
The trail descends steeply as it enters adense rhododendron forest. The final climb of the day brings us to Tadapani.
A small, charming village sitting on a hill top enclosed by a rhododendron forest; and where we have a close up view of Annapurna south (7,219m), much closer than the one seen on the trail, and distant views of Machhapuchhre (6,997m) and Annapurna lll (7,555m) and Annapurna lV (7,525m).
We take lunch here and then walk to Ghandruk.
15
Day 15 Pokhara
Pokhara, Overnight Hotel.

Alt. 820m/ 4 hours walk and 2 hours bus
From Ghandruk we walk all the way down (1,5 hour) to Shwali Bazaar.
On the way we see many rice fields.
After that the last part of our walk is flat until Nayapul.
And there we take the bus to Pokhara.
16
Day 16 Kathmandu
Pokhara - Kathmandu. Alt: 1,350m.
After our bustrip of 7 hours to Kathmandu, you have some free time to wander around in Thamel.
In the evening we have our farewell diner.
17
Day 17 flying back to Belgium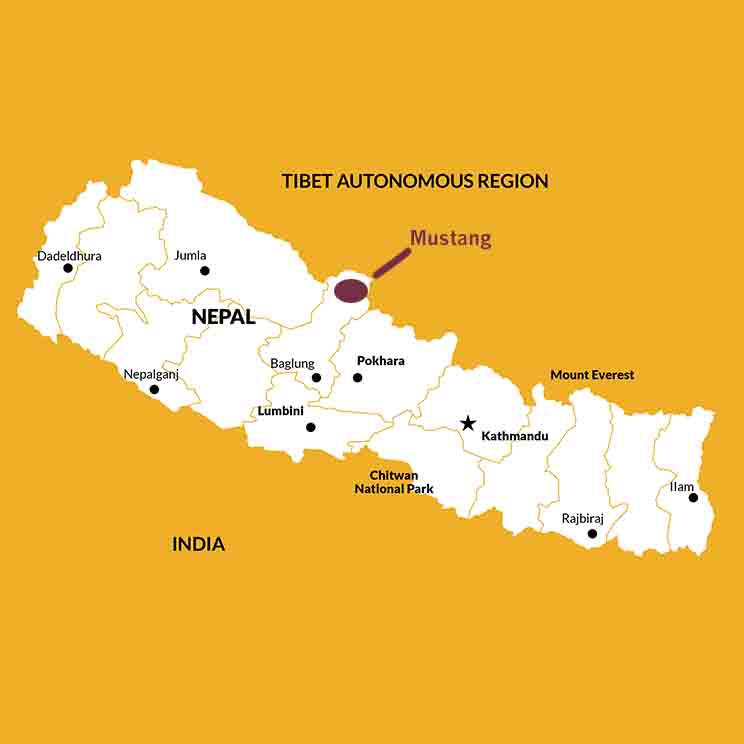 download here the detailed map of Great Himalaya Trail: Mustang
Highlights:
o
o Buddhist chorten, stupa and monasteries
o Impressive gorges and cliffs
o The Kaligandaki river valley
o Guru Rinpoche meditation cave
o Jong cave
o Mud structures
o Mountains such as the Dhaulagiri, Nilgiri, Mustang Himal, Throngla Peak and the Annapurna
o Meeting locals and observe the life in the village (Gurung tribe)
o Nice rice terrace fields
o Forest
o Monasteries
This trip is full booked.
If you want more information about an upcoming tour like this please send us an email.
PRICES:
Double  2.175 dollar
Single    2.250 dollar 
You can book this tour in our booking form - category "organized tours"
If you want to go on another departure date - ask an offer here.
ADDITIONAL INFO
Included:
All meals as mentioned in itenary based on 1 item per meal (mean dish).
One cup of coffee or tea included with meal
Guide and porter
All transport as mentioned
Permit for the Mustang and for Annapurna
All hotels/tea house as mentioned


Not included:
Personal Travel Insurance (cover your adventure activity as well as medical, emergency evacuation and personal belongings). It is imperative to be insured with suitable cover
Personal clothing and footwear such as down jackets, waterproofs, hat, gloves, hiking boots
Personal equipment, for example rucksack, day backpack, torch, water bottle, sleeping bag and mat
Personal medical supplies and vaccinations
Personal expenses such as phone bills, room service charges, porterage, bar bills (meals exclude bottle and alcohol drinks), tips to guides, porters and drivers, laundry
Flighticket in and out Nepal.
Expenses incurred during emergency evacuation due to any reason
Optional tours, excursions and activities
Cold drinks and alcohol
Hot showers, internet and charging batteries are for your own expenses
Tips for guide and porters.
Entrance fee for monasteries and cave.
Any item not detailed in the "What Is Included"
More Info
You can find more information on our Terms & Conditions in the sidebar or in our footer.
In the section Frequently Asked Questions you will also find there more information.