1
Day 1: arrive in Kathmandu
We pick-up you up and bring you to the hotel in the Bouddhanath area.
We stay in a Boutique hotel own by Tibetans.
Our hotel is located in the quiet neighbourhood around the stupa.
The walk to the  the Boudhanath stupa is about 10 minutes and leads us through the local streets where we can have a glimpse of the daily life.
This is the largest stupa in Asia, and a very important Buddhist pilgrimage place.
The best time to visit the stupa is late afternoon, when the elderly Tibetan a Nepali Buddhist people stroll down to the stupa to light butter lamps, spin prayer wheels, chant mantras, socialize and stroll clockwise around the monument as part of their daily spiritual life.
Around the stupa are also many shops where you can find more Buddhist orientated gifts.
In the evening we will have a welcome dinner on a nice roof terrace from where we are going to have a stunning stupa view.
Here we are going to have our first teaching.
The introduction of the methode of calm-abbiding the mind, an authentique Tibetan Meditation technique.
So we can use this methode in our trekking.
The briefing of our trip will also be been given after dinner.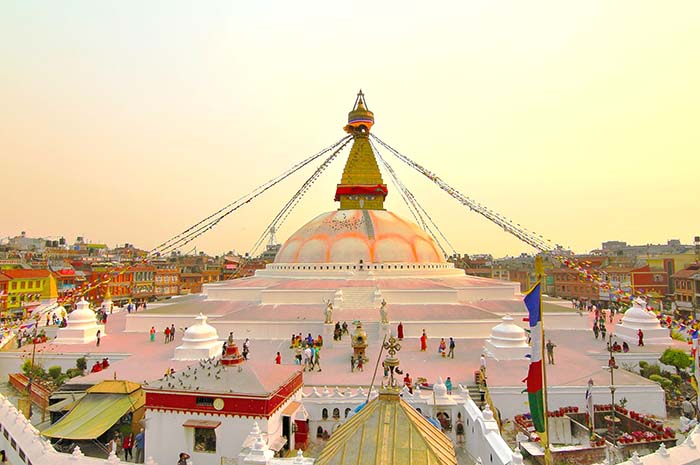 2
Day 2: Kathmandu to Sundarijal (by car) and walk to Chisapani
After our breakfast, we have  about one hour drive to reach Sundarijal.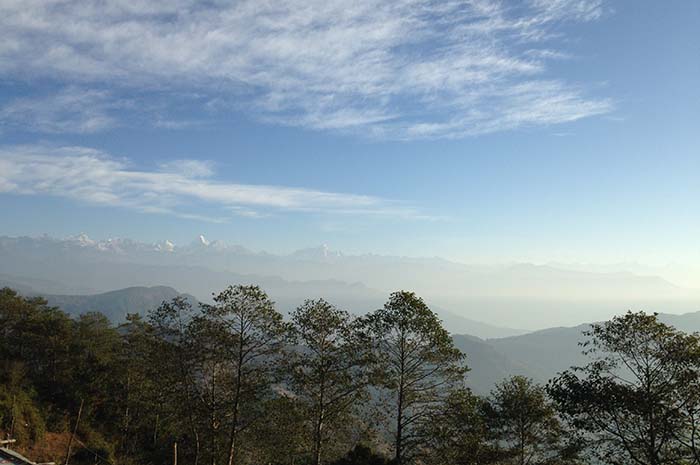 From there we start our Mindfull walk to Chisapani.
It will take us around 5 hours and we will come across a green beautiful nature with waterfalls.
We will make stops on beautifull spots where we work on our inner leadership process with a different tools we offer.
We will overnight in Chisapani in a local lodge or hotel.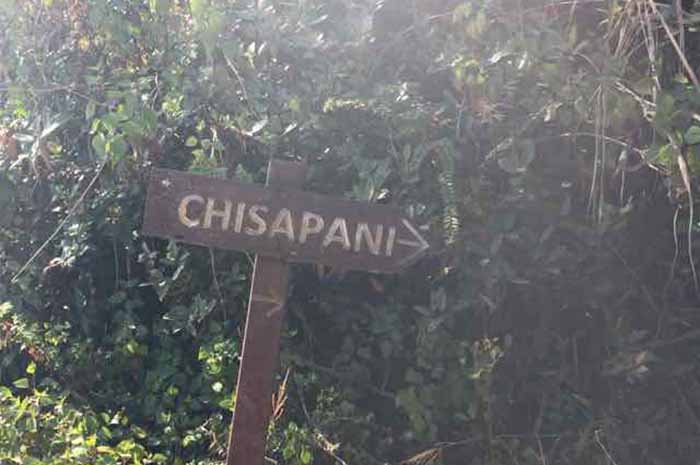 3
Day 3: Chisapani - Nagarkot
After our breakfast we will start our hiking to Nagarkot.
Today we will have a mix of green nature, a first stunning view of the white mountains, the Himalaya range. 
We can experience the local Nepali villages with their cultures.  The trail passes through the typical Tamang villages with rhododendron and pine forests.
Also today we will make stops on beautifull spots to do yoga and meditate.
The walk is medium and will take about 7 hours.
Eventually we will arrive in Nagarkot to see the sunset on the Everest Range.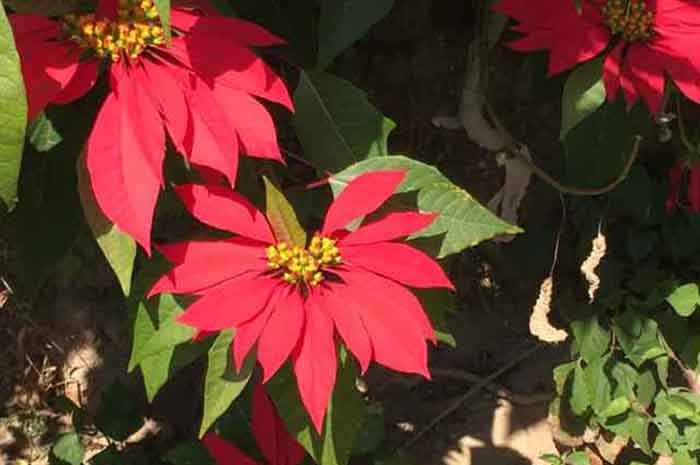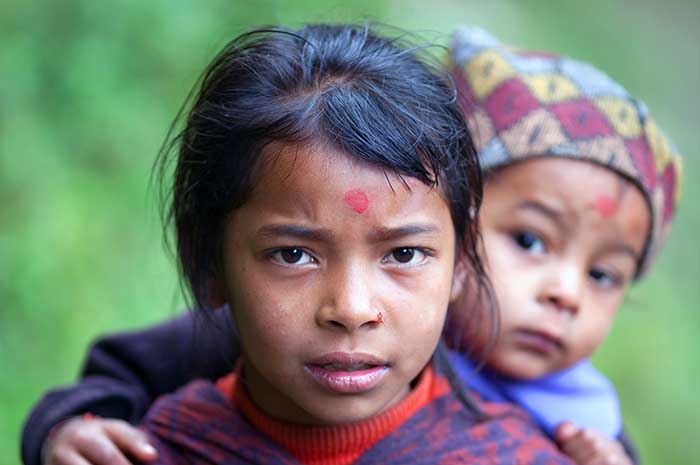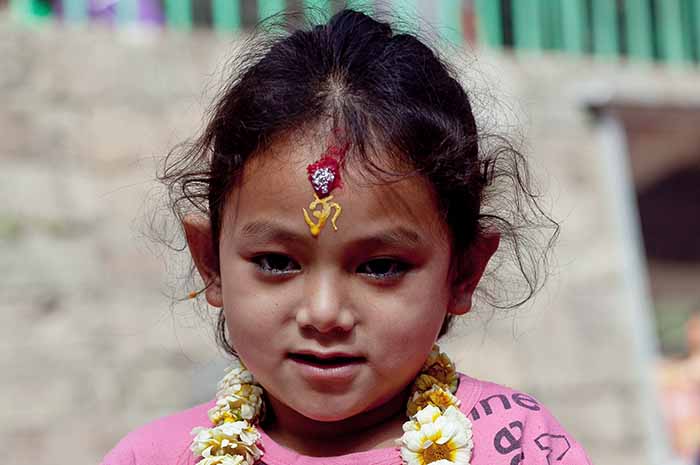 4
Day 4: restday in Nagarkot
We will enjoy a restday in our beautiful hotel of Nagarkot.
Every room has mountainview and even from out of the swimmingpool we have mountainview.
Click here for the hotel view.
The hotel is located on a quiet place in the forest.
The perfect spot to do work on our inner process.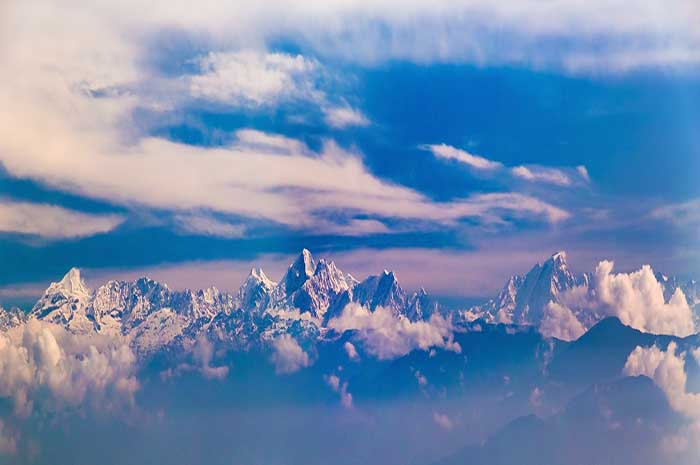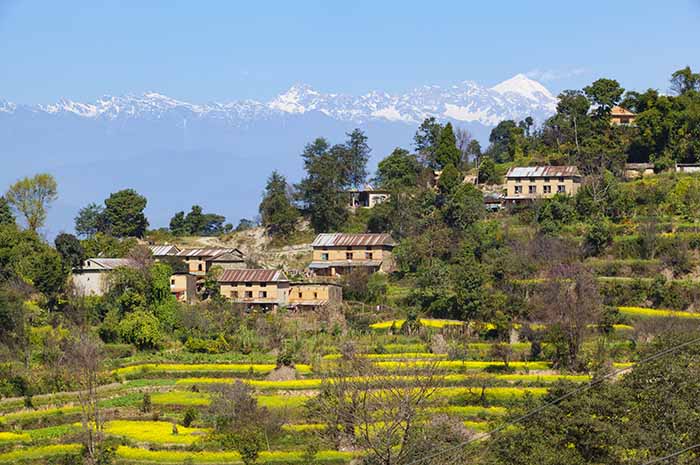 5
Day 5: Nagarkot - Changu Narayan - Bhaktapur - Namo Buddha
Today we will drive with the jeep to Dhulikhel.
On our way we will make two stops, we will visit one of the oldest temples in Nepal Changu Narayan.
We will have a second stop in one of the three kingcities, Bhaktapur.
When you stroll in the streets of Bhaktapur, it is as you are back in time.
Bhaktapur was used for many movies as for example Little Buddha.
We will make a 2 hour walk across the small streets of Bhaktapur and see the local life.
The handicrafts of Bhaktapur are very famous as the wood carvings, pottery, ... .
and later in Bhaktapur.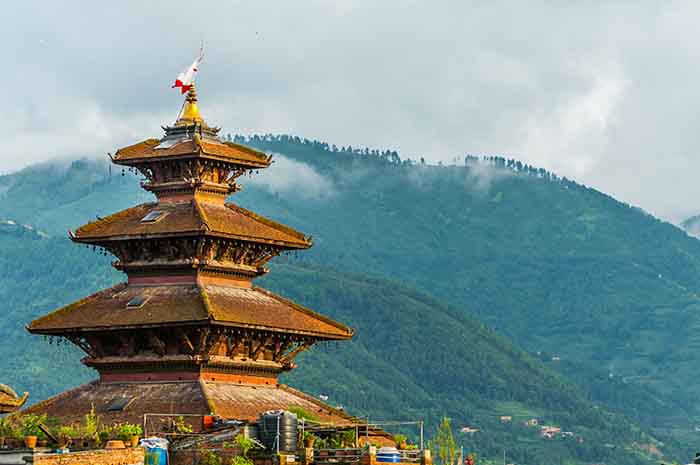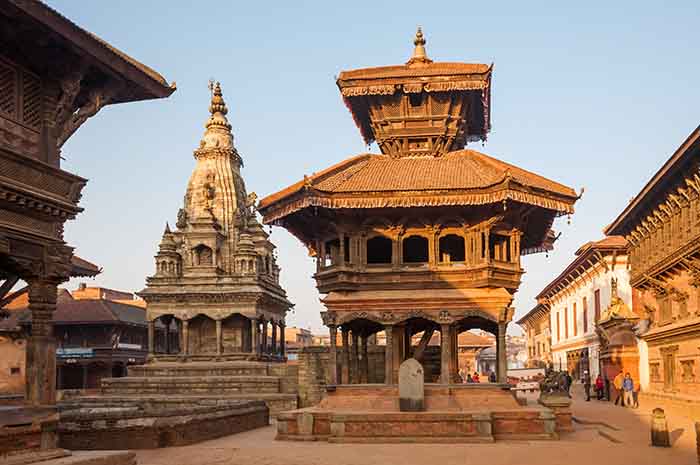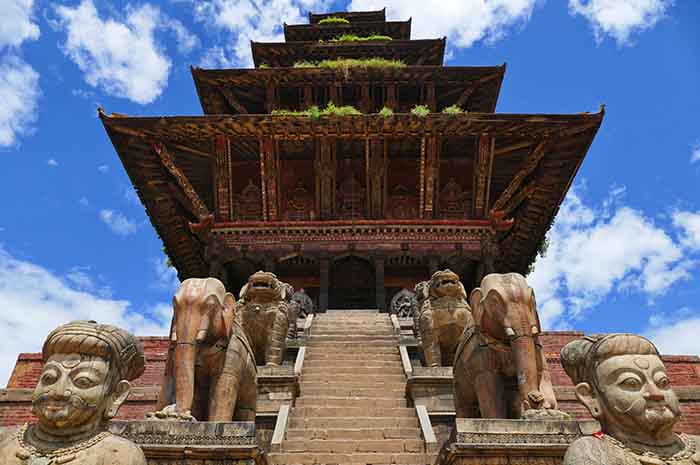 Then we will drive to Namo Buddha and arrive  in our retreatplace.
click here to have a view on our retreatplace.
Here we will start with our two day "inner leadership" retreat.
We will explore eastern and western methodes.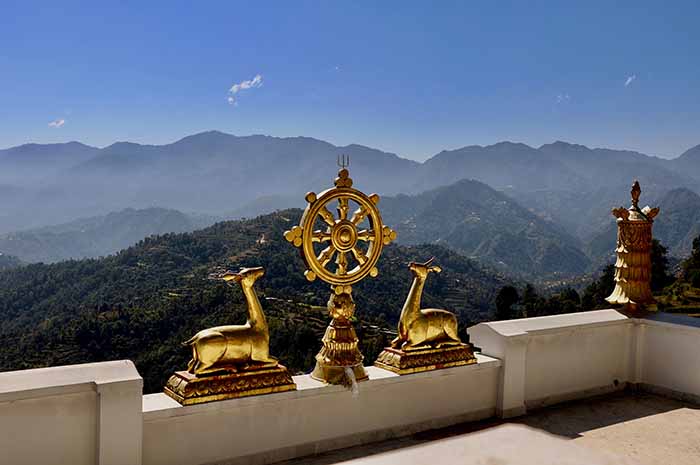 6
Day 6: Namo Buddha
click here to have a view on our retreatplace.
Second day of our retreat.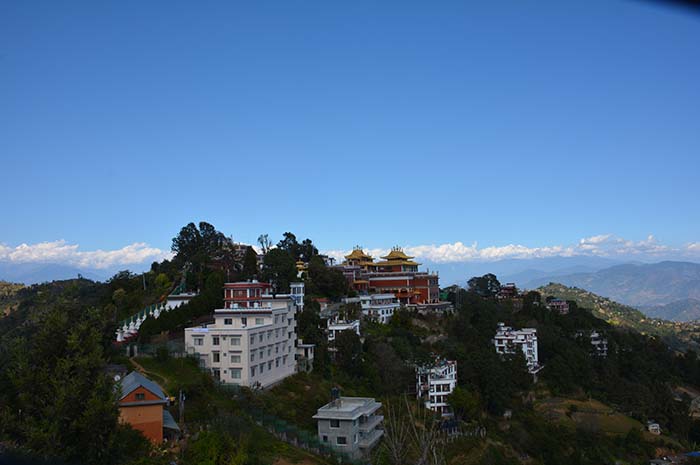 7
Day 7: Namo Buddha - Kathmandu
Today is the last day of our retreat.
In the late afternoon we will drive back to Kathmandu.
Where you will have free time to do some shopping.
We will end our wonderfull week with a dinner on one of the many roofterraces around Boudhanath.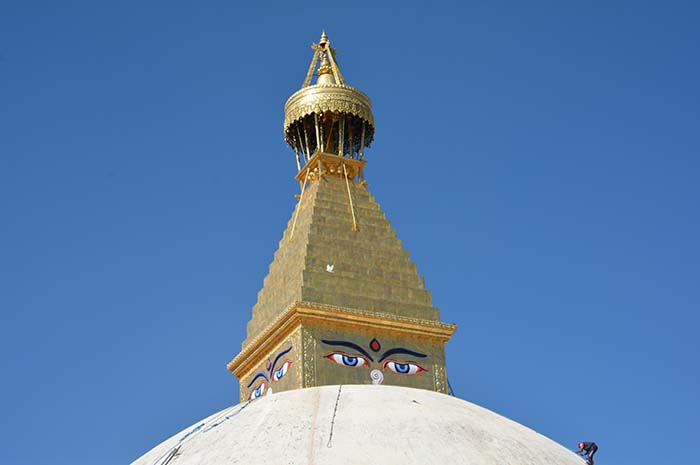 8
Day 8 : Kathmandu
Today our special journey ends.
We will drop you off at the airport
If you want to extend your stay in Nepal we are welcome to help you to make a tailormade stay.
That can be a culture, nature, trekking, adventure trip or a combination.
Don't hesitate to talk with us .
Highlights:
o Two trainers, each expert in their own working field, Bruno Roffaer and Maaike Decock
o Combination of Eastern and Western leadership techniques
o Practicing in a stunning nature
o Sunrise on the Everest Range
o 3 exclusives hotels with a stunning view
o Visit one of the nicest monasteries in Nepal
o Welcome and goodbye diner with view on Boudhanath stupa
PRICES:
Single    5.265 dollar 


You can book this tour in our booking form - category "organized tours"
If you want to extend your stay in Nepal don't hesitate to contact us.
We will help you to make a tailor-made travel.
ADDITIONAL INFO
Included:
Airport pickups and drops
Welcome and farewell diner on a nice roofterrace
4-star hotel accommodation 
1 night Tea house accomodation 
Breakfast/Lunch/dinner
Trekking Permit
All transportations inside Nepal (as mentioned in itinerary)
All excursions and entrance fees are included, as per itinerary
All excursions are guided by an experience guide who speaks very good English
Inner leadership program guided by Bruno Roffaer and Maaike Decock
All material we use in the cours books, swords, ...
Porter (to carry your luggage)
All government and local taxes

Not included:
International air fare and transportation in and out of Nepal (Kathmandu).
Please buy your own travel & annulation insurance
Make sure your health insurance cover your assistance abroad
extra drinks (like alcohol, cold drinks)
Personal expenses
Nepali visa fee
Tip for guide(s) and driver(s)
More Info
You can find more information on our Terms & Conditions in the sidebar or in our footer.
In the section Frequently Asked Questions you will also find there more information.